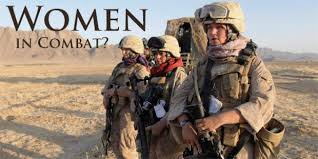 Excerpts from an exchange with one my students today on ending restrictions on women in combat:
Student (Con Law 356): I think that civilians (ACTUALLY THE MEDIA) are not understanding where us military people are coming from and they are leaving out a vital part of what is really happening. We are not saying women CANNOT be in combat! … — once you hit Iraq or Afghanistan, you are in a combat zone and can face danger at any point, so this is not the issue! The argument is with combat jobs in the army such as; Artillery, Mortorman, Combat Engineer, ect., … For instance in artillery to install a base- plate for an M119A2 Howitzer is extremely difficult for a man while wearing body armor cluttering the chest, therefore, making the arms shorter to reach under the howitzer to install– so having said that, a female now doing that would become even more difficult with the interference of breast. Lastly, it's literally like putting a female in the presence of Barbarians and they haven't eaten!! Men are savages!
Me: I was not aware that all men are able to use our penises to install a base-plate for a M119A2 Howitzer, or, that all women have "large" breast that would prevent them from doing so…that is… if they had penises in the first place? Why is it that a trained woman with enough upper body strength to install the base-plate, and small enough breasts and long enough arms to reach under the howitzer, cannot do so? Does the vagina get in the way? May you had to be there, but class was kinda lit.